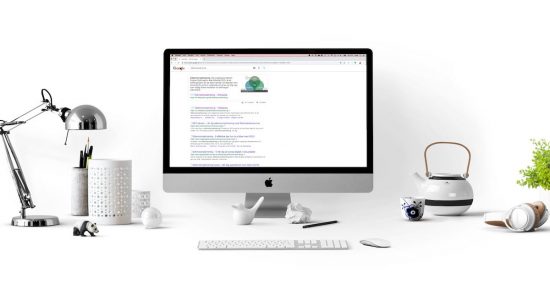 A website should not only be stylish and informative, it should also be optimized for the search engines. But what does search engine optimization really mean, what is it good for and how do I get my website to the top of the search results? 
Every day, about 55 million searches are made on Google for everything between heaven and earth. When one of these searches is about your area, you of course want to capture that traffic with your website, partly because it is a lot of traffic but also because it is purposeful traffic. To capture that traffic, your website needs to be at the top of the search results. The higher up the website, the greater the chance that the traffic will end up with you. But how do you get to the top of the search results? We'll tell you!
What is SEO?
SEO stands for search engine optimization and is about improving a website's ranking in search engines' organic search results. The goal of the search engines is to show the best and most relevant answer to the user's search. By optimizing your website and its content, you make it clearer to the search engines what content the website has and how relevant and important it is compared to your competitors. The benefits are many; you are seen where your target audience is – they have actually made an active choice through their search – and it is a cost-effective marketing method.
How do I search engine optimize my website?
There are endless tips on how to practically optimize your website for search engines and end up at the top of search results. However, there are some parameters that are extra important – below are our best tips.
1.Let images complement the text on the website – do not replace them.
2. Stick to one message per page. A page full of scattered information becomes unclear to both the visitor and the search engine.
3. Create as clean an encoding of your website as possible to make it easy for search engines to read the content of the website.
4. Use a relevant keyword in the text. It is not about overusing the chosen keyword but naturally inserting the keyword into the text. There are many programs you can use to find relevant keywords, one example being Google's Keyword Planner.
5. Create a clear web address (URL). The task of the URL is to describe the content of the page as well and clearly as possible.
6. Create a meta description per page. The meta description appears among Google's search results and can be described as the shop window of your website. The description should quickly attract visitors to click into your website. All pages should have a meta description of a maximum of 150 characters.
7. Write for the web. Write an interesting headline, short introduction, use intermediate headings and have short paragraphs with texts. Search engines love clarity and you can use bulleted lists in the text.
Tip: You find many guides in the internet about this topic with further and more detailed information, e.g you can click HERE.  We recommend to dive more detailed into this matter to understand all details and enhance the chances for your online project.
Source of this blog: https://blogg.loopia.se/seo-for-nyborjare/, 2021-12-07