Servage Webhosting is your perfect WordPress hoster. We make it super easy for you to install WordPress and to update it to the newest version via our application installer.  Recently, version of WordPress (5.8) has been released
which comes with some new features and improvements. We have looked at what is new and put together a list of our favorites.
There are of course lots of updates that are not mentioned here, on the WordPress website you can read more about everything that is new in version 5.8.
WordPress 5.8 makes it easier to customize your website just the way you want it
With the new features that come with WordPress 5.8, it will now be much easier to customize your website. Forget complex solutions with children's themes and code snippets.
Blocks as widgets
You can now use blocks contained in the Gutenberg editor as widgets on your site. This makes it very easy to add images, buttons, text, slideshows and so on to your widget areas.
The template editor
The new template editor (Template editor) makes it easy to create new templates for blog posts and pages. Now you can edit the look of your website using blocks directly in the template editor instead of creating complex child themes. Read more about the template editor at WordPress .
Pattern
WordPress 5.8 comes with a new panel for the Gutenberg editor, patterns. Now there are ready-made patterns that are composed of several smaller blocks that are ready for you to customize. When the inspiration wears off, you can easily go into the panel and pick out some patterns that you like and continue from there.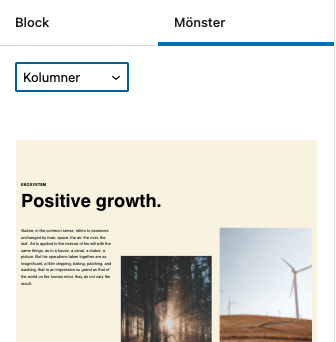 Improvements to the block editor
The block editor Gutenberg has received some improvements, these are a selection:
Now you can select the parent of your nested block with a simple push of a button. No more clicking hello wild to access the right block.
New Duotone filters that you can use for images and other media blocks.
A better list view to get an overview of all available blocks.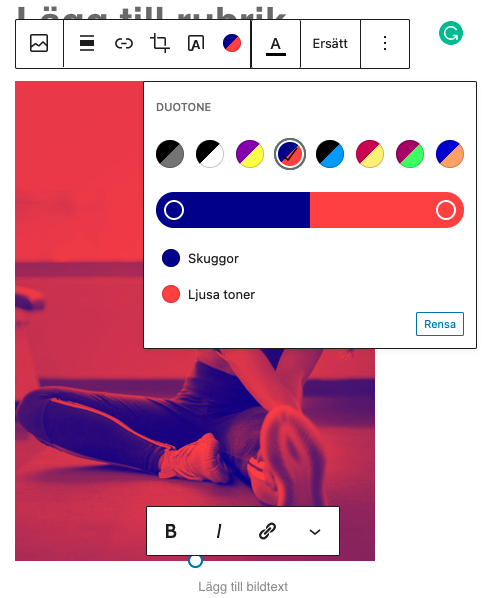 What do you need to think about before updating to WordPress 5.8?
Before updating your website to the latest version of WordPress, it may be a good idea to start with some preparations:
Make sure you have a backup of your website in case something goes wrong
Update your add-ons and themes for best compatibility with the new version.
How can you install and  update your WordPress via your Servage account?
Via the Servage application installer, you can install WordPress with few clicks only. Check HERE how to do that. If you installed your WordPress via the Servage application installer, you can easily update your application with few clicks only. Check the following Helpdesk page to find out how.